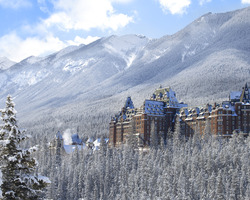 Save 15%, 30% or even 40% on your
stay
when you stay at these Fairmont flagship hotels. This pretty much eliminates ALL excuses for not visiting Banff/Lake Louise/Sunshine this coming season! Everyone, and we mean everyone we send to these fabulous properties comes back raving about their experience.
Your savings could range from $200-1000
depending on your dates and accommodations chosen.
Fairmont Banff Springs Hotel:
Few hotels in the world rival the majesty, hospitality and grandeur of The Fairmont Banff Springs resort. For more than a century, `The Castle in the Rockies' has provided the unique blend of luxurious comfort, individualized service and timeless beauty for the most discerning traveler. Styled after a Scottish Baronial Castle, The Fairmont Banff Springs is located in the heart of Banff National Park, a UNESCO World Heritage Site. With such a setting the hotel offers stunning vistas, championship golf courses, world renowned skiing within minutes, exceptional regional cuisine and the grand Willow Stream, the spa at The Fairmont Banff Springs. The Fairmont Banff Springs offers all the amenities of a world-class resort, with 768 superbly appointed guest accommodations and attentive, personalized service. From cozy rooms tucked away in quiet corners of the castle to spacious suites with sweeping Alberta mountain views, The Fairmont Banff Springs has the perfect room for you.
Fairmont Chateau Lake Louise:
Located in the heart of pristine Banff National Park, and within a UNESCO World Heritage Site, The Fairmont Chateau Lake Louise is recognized globally for progressive environmental stewardship and responsible tourism, values at the heart of this historic resort. The journey to this treasured Chateau is a scenic drive featuring unparalleled vistas of soaring mountains, roaring
rivers and abundant wildlife; just two hours from Calgary via the Trans Canada highway.
'I never, in all my explorations, saw such a matchless scene.' It was 1882 and Tom Wilson, the first non-native to view Lake Louise, was referring to that amazing discovery. His opinion also happens to echo the sentiments of our guests upon seeing their rooms. Elegant and polished yet relaxed and inviting, The Fairmont Chateau Lake Louise accommodations strive to live up to
the natural wonder with which we share our name. Unwind where the luxury of a bygone era has been perfectly preserved. In a guestroom or luxury hotel suite with a heightened level of modern accommodation, heartfelt welcome and genuine service. Great on-site dinning, shopping, and recreation options abound, plus enjoy the 10 minute complimentary shuttle to the Lake Louise ski area.

Book and deposit your stay by November 30th
Get 15% off 2 nights and 30% off 3+ nights at The Banff Springs Hotel
Get 15% off 2 nights and 40% off 4+ nights at The Chateau Lake Louise

Valid for new reservations only. Travel must be completed by April 30, 2016. Blackout dates are Decemeber 22 - January 2

Complete any online quote for the properties listed here, and your discount will be automatically applied.